Here is Kerry K. Cat Cowboy. Kerry takes his cats out everyday to play in the back yard and stays with them. When its time to go in he says the magic word Treats and they run to the door and into the house.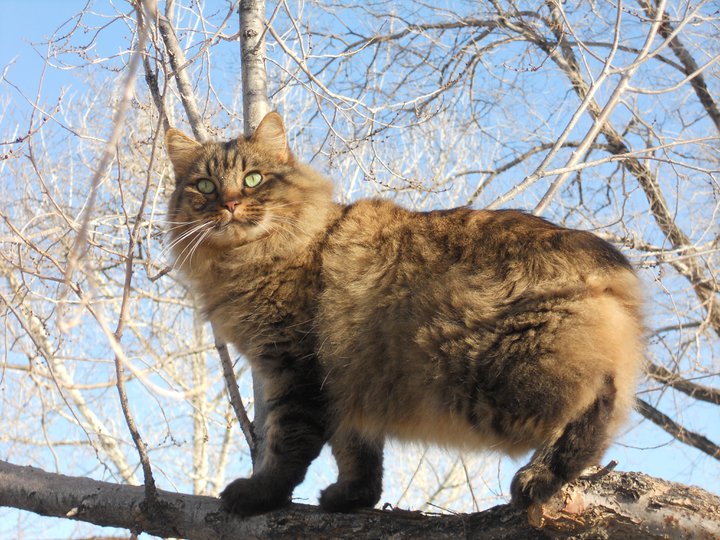 ---
Hi Sandra and Kat,
Weeble. He's doing great. He has a wonderful temperament and personality! He's absolutely amazing.
He sleeps right next to me in his own spot he picked on his second night here. He has 6 windows to look out, and a large outdoor cage for use when we are on the porch only. He sleeps next to my computer when I'm on it too on a soft bed next to the window. He really lives the spoiled cats life! He watches TV with us and really enjoys the cowboys and indian movies with lots of action. He also plays non stop and is sooo funny!
Thank you for such a wonderful kitten! We love him!
Mike and Paula
---
Hi Kathryn
I would like to thank you for our little boy 'Leo' who is just a sheer delight. He settled in very quickly and used his litter tray from day 1 without fail. Our other 2 cats got used to him after a couple of days. He also gets on well with our dog after he figured out he has to lie down when she starts chasing him. They are good friends by now and have a lot of fun. He is just so loving and likes to be with you. Now I can't have breakfast any longer without him sitting beside me. He is very well behaved and no trouble at all. Just very entertaining. Especially when you give him a little paper ball to play with. He kicks it trough the whole house. He is very crafty too. Quite dog like behaviour. I will try to teach him how to walk on the leash next week. Will be fun.
Again many thanks for this wonderful little fellow.
I attach a couple of pictures of him for you to enjoy.
Susanne
---
Hello Ladies,

I wanted to tell you how well Bella is doing. She is a beautiful girl. She
couldn't be more loved than she is in our home. What fabulous cats you
breed! I don't think I have ever had a cat with such a great personality.

Bella is a funny girl. She tries to eat EVERYTHING! She once tried to drink
one of my martinis. Of course, I wouldn't let her, but it doesn't mean she
doesn't try. She has never turned her nose up to anything. Bella loves our
two collies. We don't let her out of the house because we live in an area
with coyotes. She must have run out from under our feet one evening because
we found her sleeping in the dog run with our collies. The dogs love her as
much as she loves them.

I just wanted to thank you for being such caring, loving and special
breeders. We love our Bella and want you to know she is well cared for:-)))

Regards,
Lyn
---
Ladies,
I just wanted to let you know that Shadow is beginning to
settle in nicely. The first couple of days, she hid under the bed and we
were worried that she might be horribly homesick, but she has begun to
live up to her name and follows me everywhere! She also seems to be a
wonderful 'fetcher' and even though we seemed to have lost her little
fuzzy balls somehow in transit, I picked up some new ones and they seem to
work just fine! I'll send some photos soon for your alumni pages!
Best and thank you......Annette
---
Dear Kathryn,
Was sitting here enjoying "my boys" and thought I would look on your
website for fun. Love the photos and wish I was in the market for kittens
as I could easily have 100 and be quite happy. Bob, however, might have a
different idea.
My cats are just wonderful. I have enjoyed them more than any other animal
I have ever owned and you know that has been many, many animals.
Maximus is asleep on his back on my stack of papers here on the floor
with me and Scout is behind me on the sofa, snoring in my ear. I think
Spike is sleeping under the footstool downstairs.
Anyway, please let me know what you are up to. How the cat business is
doing and please promise me you will still be selling American Bobtails in
15 years or so when I am in the desperate need for new kitties. Until then
I just have to look at your photos.

Hello to your mom. Drop me a note when you have time.

Peggy M
Champions & Supremes
Breeder of Regional Winners
Top Quality Kittens
CFA & TICA Registered
All of our kittens are health guaranteed
Affordable prices
Serious inquiries please email your phone number to:
E-MAIL
Pacific Standard Time
We look forward to hearing from you.
Copyright
No images or information to be copied or reproduced without the express approval of the copyright holder